If you've never made caramel corn I just have to emphatically say do it!! Even the best store bought stuff you can get doesn't hold a candle to this gorgeousness, and obviously you save a ton (use the money to buy macadamias and toss those in 😋)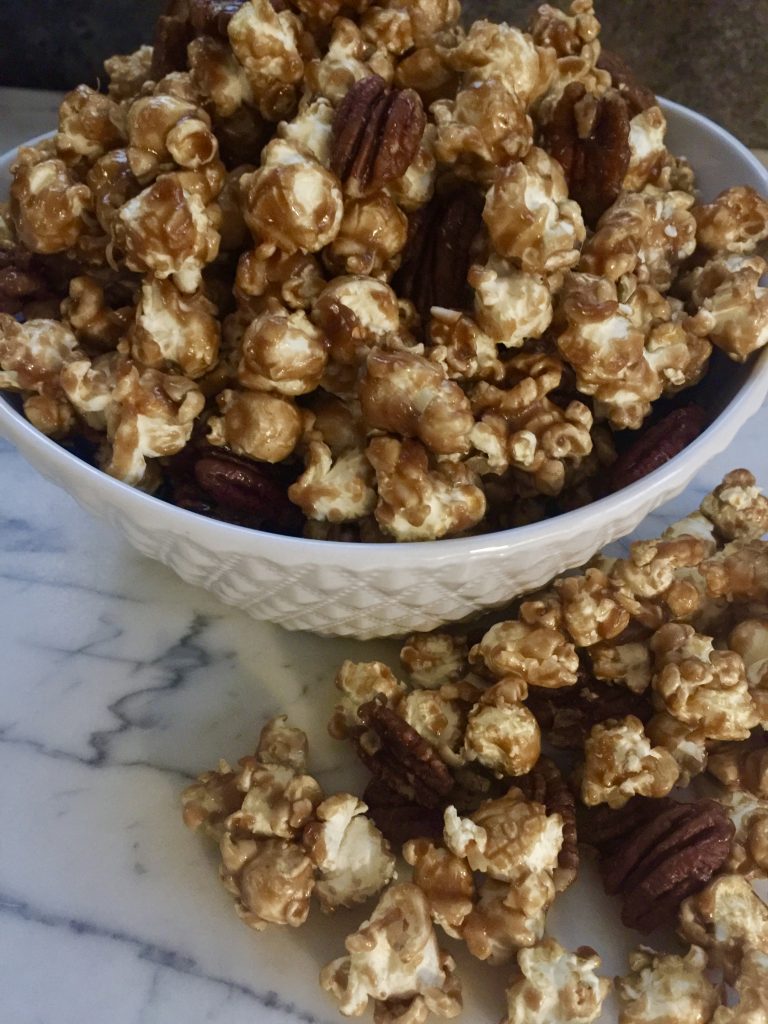 I've been making this recipe for almost 30 years- a dear friend's mom would make it at Christmas and we would all scramble for it, lol! I've been using my handwritten copy ever since. I don't know where she originally got the recipe, but I've only made one change, from margarine to butter. I decided to try the switch years ago, thinking maybe butter would make the caramel more finicky, but not at all. It just makes it even more delectable!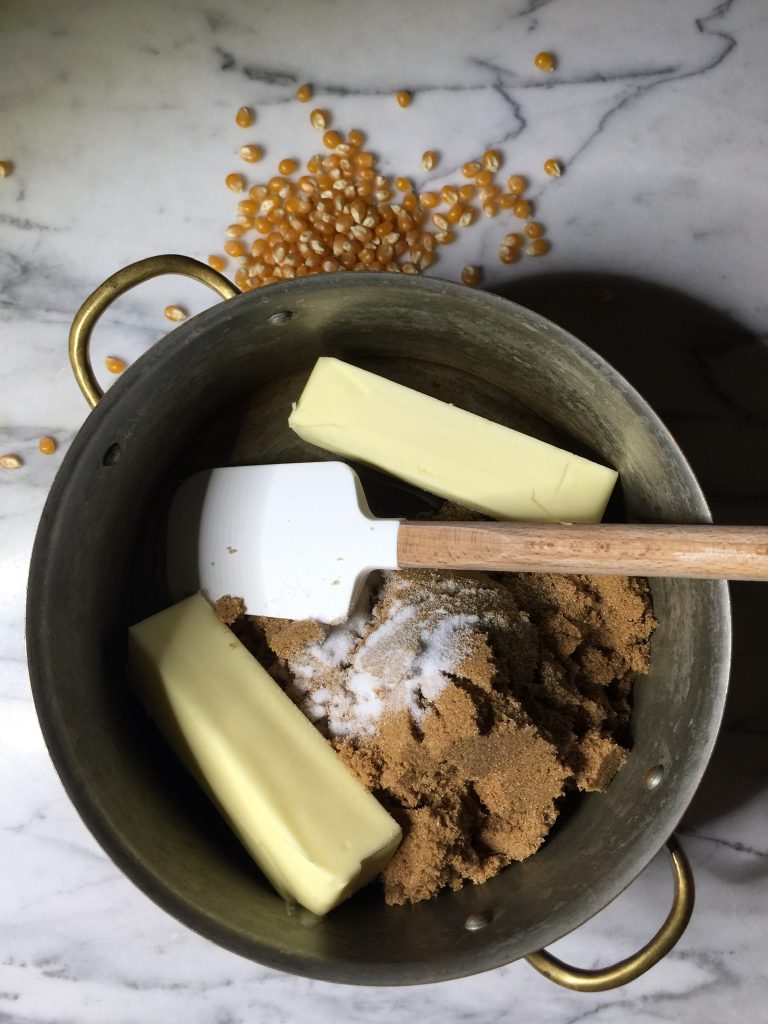 It's a fun and simple process. Just heat butter, brown sugar, salt and corn syrup for the caramel, adding vanilla and baking soda at the end. Pop a bunch of corn (my recipe says "fill the yellow bowl" next to the quantity ha!). My poor old bowl has a huge crack in it but I love it…measuring the popcorn for this is the only thing I still use it for!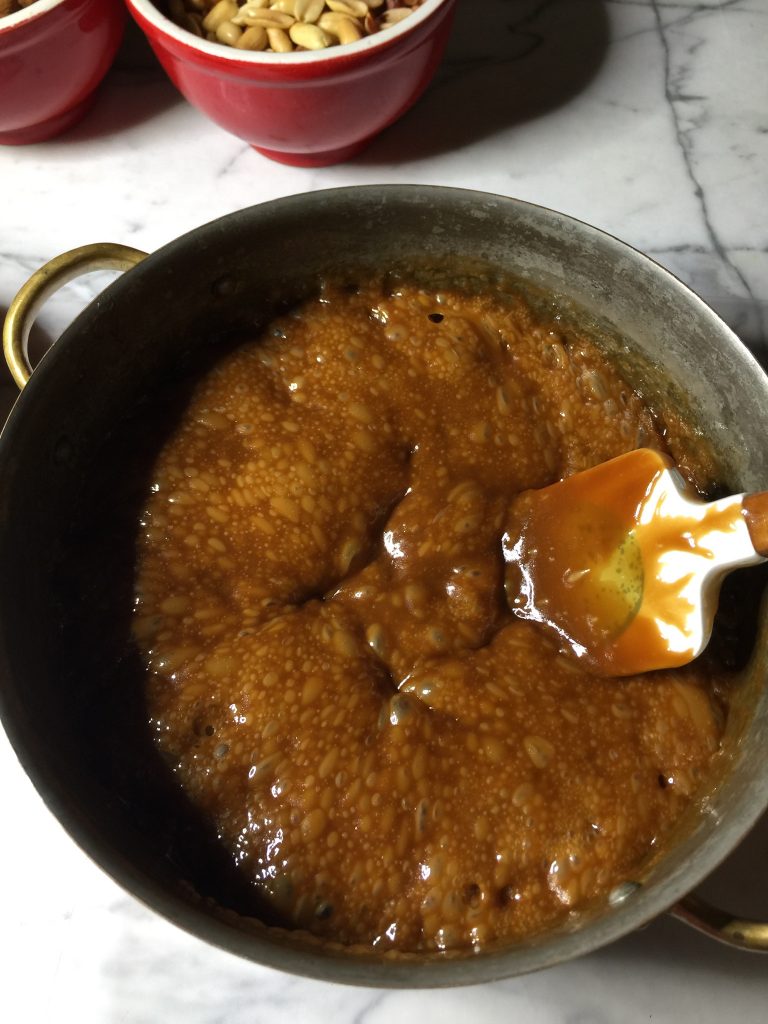 Pull out your biggest baking or roasting pan for this (or split into more than one). I use two half sheet cake pans.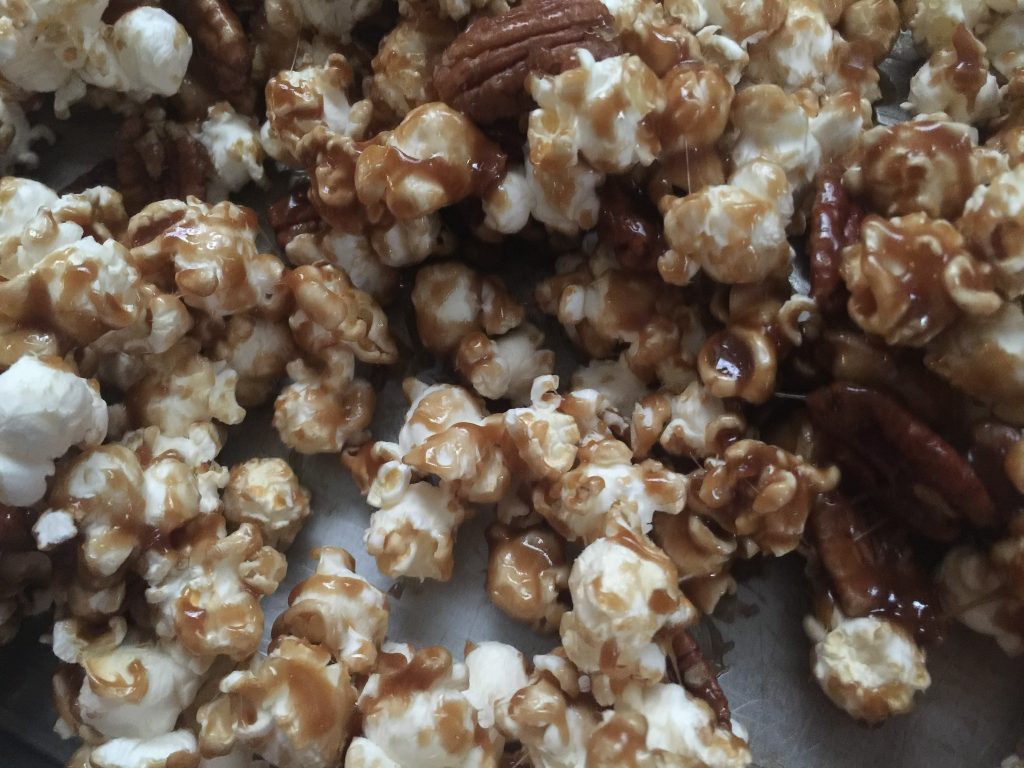 Pour the caramel over your popcorn and stir. In the above photo you can see the kernels are covered a bit unevenly, which is completely fine. Stick the pan in the oven and stir again in 20 minutes.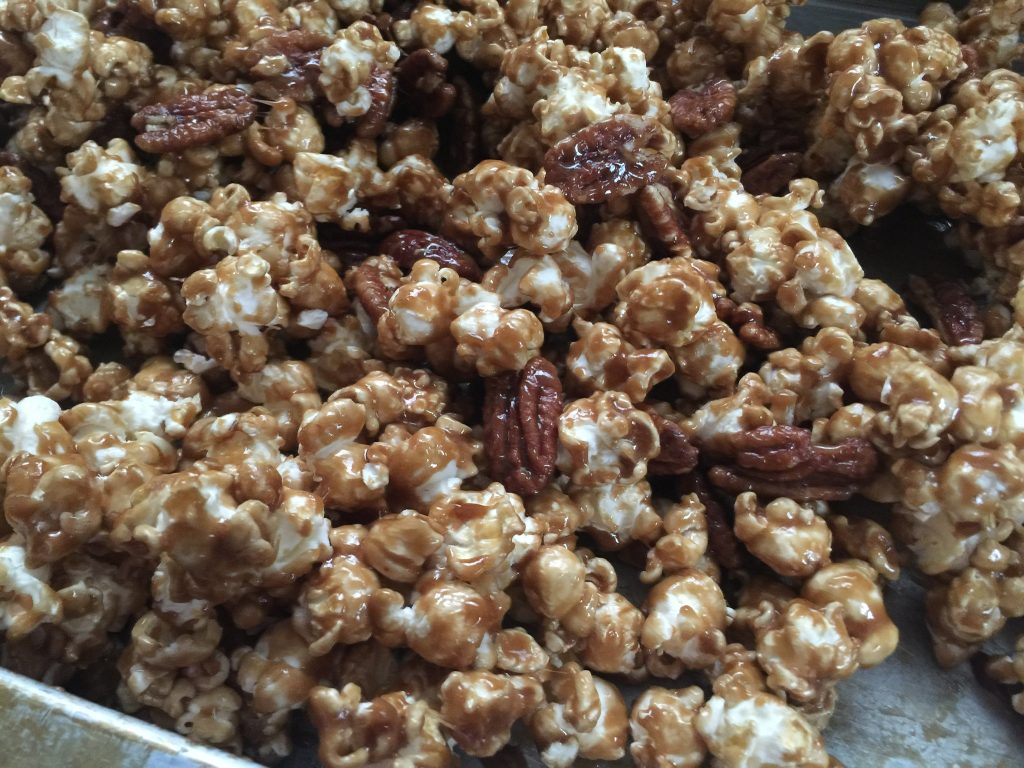 That should cover it the rest of the way, and also crisps it up (you bake it three times).
It's an absolutely perfect gift- especially if someone hasn't had homemade before, they are blown away! It's soooooooo good. Oh and if you know their favorite nut or nuts, even better. Prepare to get lots of requests!
caramel corn
The best caramel corn you'll ever have!
Ingredients
5 quarts popcorn

1 cup butter (2 sticks)

2 cups brown sugar (I use dark for everything…either light or dark works so just use your preference)

1/2 cup light corn syrup

1 teaspoon salt

1/2 tsp baking soda

1 tsp vanilla

2 cups nuts (optional). Peanuts are the classic addition (cocktail peanuts are what I always use) but any nuts you like will be fantastic in this. This year I used pecans for the first time and I think that's my favorite now!
Directions
Preheat oven to 250 degrees. Pop enough corn to make about 5 quarts. Keep popcorn warm (toss the nuts in as well if you're using those) in the oven while you make the caramel. If you have a big roasting pan, use that. If not, or if you are splitting the batch into different varieties of nuts, break it up into smaller pans. The bigger the better because that will make stirring much easier. If need be, grab foil roasting pans at the market.
Combine butter, sugar, corn syrup and salt in a medium or large saucepan, keeping in mind the mixture will bubble up when you add the baking soda later.
Bring to a gentle boil, and cook for five minutes, stirring occasionally. You're going for 234 degrees, so if you have a candy thermometer use that. If not though it's fine, just keep it at a gentle boil. Over the years I've undercooked the caramel once (the end result stayed a bit sticky like popcorn balls) and over cooked once (the mixture was too thick to coat the kernels evenly). Still yummy! The thermometer will take the guess work out though, and they are not expensive.
Take the caramel off the heat, and add the vanilla and baking soda. The mixture will foam up as you stir. Once it's a uniform color, pour over your popcorn and stir. The popcorn will not be evenly coated but that's fine, just carefully give it a good stir.
Bake for an hour, stirring every 20 minutes.
Turn out onto wax paper or Silpat (don't let it cool in the pan because it I'll harden into a huge block…ask me how I know this 🤣). Once it's cool, break into small clumps.
The hardest step: try not to eat yourself sick on this, ha! It's very hard to resist!
If you love caramel as much as I do, you'll also want to make this awesome salted caramel sauce.
Happy baking!!