This stuff is heavenly, full stop. Salted caramel sauce can be used in a million wonderful ways. On ice cream, in apple pie (or if you don't have time for that: dip Granny Smith slices in it for a quick and delicious caramel apple hack). For our purposes today, in buttercream. Yuuummmm.
I'm in that "fall is coming!" mood so I'm making applesauce cake, and for that I want salted caramel buttercream.
making caramel can get a bit tricky
Caramel sauce is yet another thing I had trouble with before I tried the right recipe. Traditionally, you cook sugar and water until it caramelizes, then add cream. For the life of me I couldn't get from one end of the process to the other without the whole thing going grainy on me. Grr.
the fix
This one from Sur La Table is the one I finally stumbled across which changed the game for me by incorporating a bit of corn syrup. Apparently that is the trick, because of some sciency explanation around the molecules of the liquid syrup bonding to the dry sugar and keeping it from crystallizing. I don't care why it works though- it just does. So that leaves me with the other challenge with making caramel: not burning the sugar (don't ask). That bit is finicky but as long as you pay close attention for those few minutes, you'll be rewarded with the most rich, silky and gorgeous caramel sauce you've ever had!
how to make this amazing stuff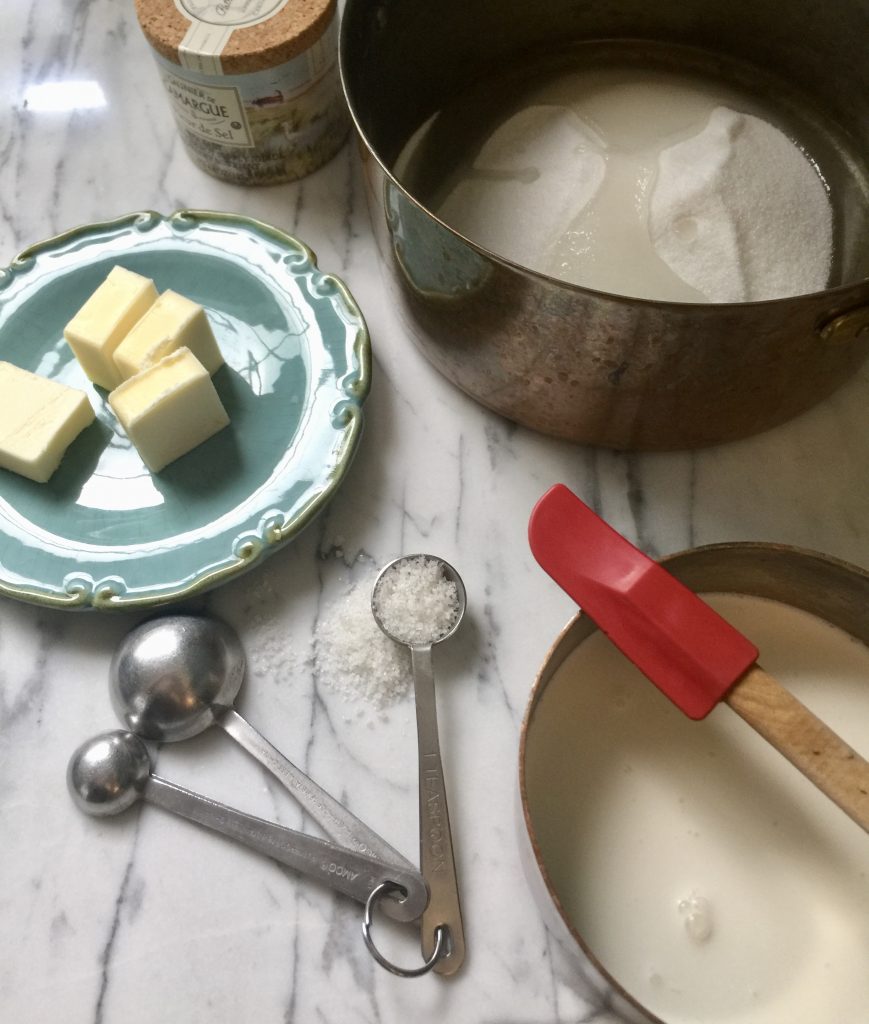 Combine the cream and butter in a small saucepan and heat basically until the butter melts, and keep warm. For the sugar and water, the pan matters- try and use your pan with the lightest colored bottom. This is so you can see what color the mixture is turning as clearly as possible, because the change is quick and subtle. Also use a bigger pan than you think you'll need (when you add the cream it *really* bubbles up).
Above (top left) you'll see the color you're looking for when you take the pan of the heat (I'm tilting the pan to show it better). It will continue cooking, and darken in color as it sits off the heat. Add the cream (I don't have photos of that because that bit goes quickly and takes full attention!). I like to add the fleur de sel at the end, because I like the mild flaky crunch and little burst of salt. Ok now I really want some.
add it to buttercream
Once your sauce has cooled, you can add it to your favorite buttercream.
I have to admit I was a bit horrified (momentarily) when I actually measured how much I usually put in- it was almost 3/4 cup. That may be too much for your taste, and it depends on how sweet your buttercream is as well. The buttercream I usually use has *way* more butter than a traditional American style (I do 1 lb. butter to about 3 1/2 cups powdered sugar). Start small and taste as you go.
It's great on almost any flavor cake, but applesauce and chocolate are my personal top two.
salted caramel joy
My title is editorial; the actual name is Salted Butter Caramel
Ingredients
1 cup heavy whipping cream

4 tbsp unsalted butter, cut into pieces

1 tsp fleur de sel (link to my favorite)

1 1/4 cups granulated sugar

1/4 cup light corn syrup

1/4 cup water
Directions
In a small saucepan add cream, butter and salt and bring just to a simmer, stirring to combine over medium-high heat. Remove from heat and set aside. 
In a medium saucepan, bring sugar, corn syrup and water to a boil, stirring just until the sugar is dissolved. Continue boiling without stirring until the mixture is a rich amber color and reaches between 340°F to 349°F on a candy thermometer. Remove the caramel from the heat and carefully stir in the cream mixture. The caramel will bubble up so be careful. Stir with a whisk to blend. If any bits of caramel have solidified, set the pan back over very low eat and stir gently until they melt. 
Notes
Just really be careful when you pour the cream into the sugar- it bubbles up a lot!
We are sorry that this post was not useful for you!
Let us improve this post!
Tell us how we can improve this post?
Any other ideas for what to put salted caramel on? I'd love to hear what you guys do with it!
Happy baking!!