Happy fall y'all! (Now that I live in the South I can say that right?) 😉 It's the perfect time to make this applesauce cake with salted caramel buttercream.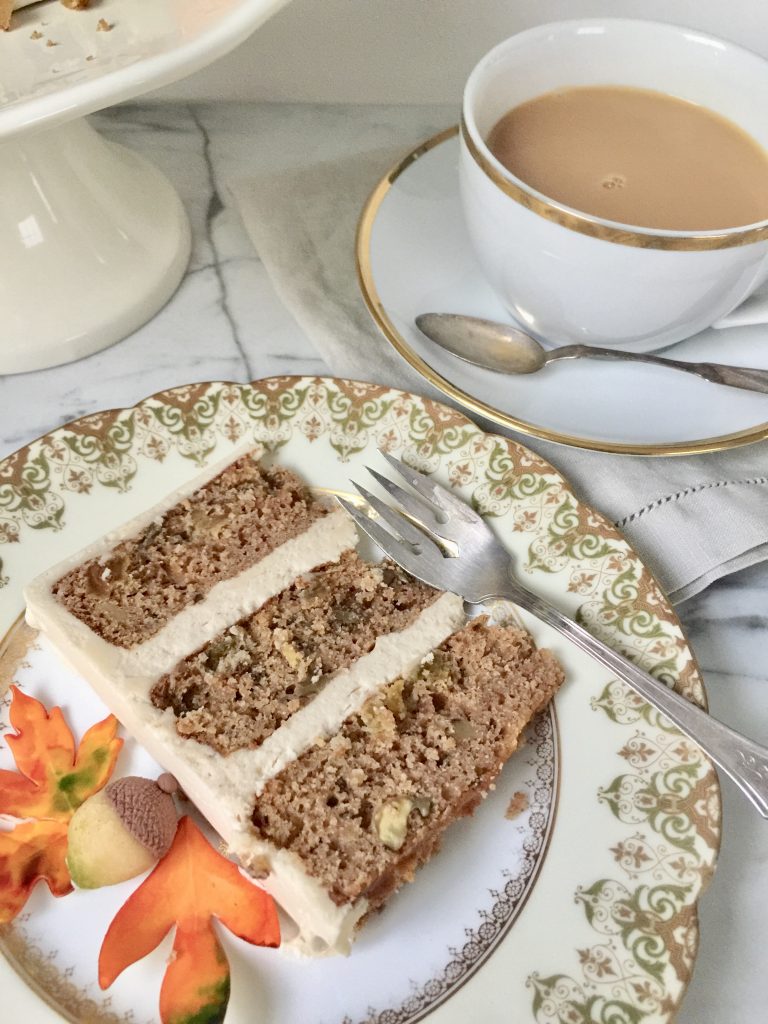 It's time for warm spices and rich flavors and colors, which makes me happy. To celebrate, I made a gorgeous salted caramel sauce and put it in some buttercream, and frosted my favorite applesauce cake (Nick Malgieri's, from his fantastic book Perfect Cakes) with it.
It reminds me more of a tea cake than a typical layer cake. It has a more dense texture that I really like, and has alllllll the lovely spices and nuts (Braga Organic Farms has gorgeous walnuts and pecans at very good value). Bake it up in one pan and leave it unfrosted, for a homey treat to have with your tea. Or bake it in layers, and create a showstopper for any fall occasion.
It's a wonderful way to ring in the fall!
If you'd like to embellish it with a wreath of gumpaste leaves and marzipan acorns, here's how!
applesauce cake with salted caramel buttercream
A perfect way to celebrate fall.
Ingredients
3 cups all purpose flour

1 1/2 tsp baking soda

1/2 tsp salt

1 tsp cinnamon

1/2 tsp ground cloves

1/2 tsp nutmeg

1 1/2 cup raisins or currants (I tend to use golden raisins)

1 1/2 cups walnut pieces (I use pecans)

1 cup unsalted butter, softened

1 cup granulated sugar

1 cup firmly packed dark brown sugar

4 large eggs

1 1/2 cups unsweetened applesauce
Directions
Preheat oven to 350 degrees. Prepare a 9×13 pan (see a quick and easy way to grease pans)
In a medium mixing bowl, combine the flour, soda, salt and spices.
In your mixer, with the paddle attachment, beat together the butter and sugars until light. Add the eggs one at a time, beating until smooth after each egg.
Add 1/3 of the flour mixture, then half of the applesauce. Add another third of the dry ingredients, then the rest of the applesauce, and scrape the sides and bottom of the bowl. Add the rest of the flour, then the raisins and nuts.
Scrape the mixture into the prepared pan and smooth the top.
Bake for about 45 minutes, or until a toothpick inserted in the center of the cake emerges clean. Cool in the pan on a rack.
Notes
I tend to use pecans and golden raisins. Also, he suggests making your own applesauce but usually I use a good jarred one.
the recipe calls for a 9×13 pan but I use it for layer cakes as well. This amount will make three 8" round layers.
We are sorry that this post was not useful for you!
Let us improve this post!
Tell us how we can improve this post?
Happy baking!!