made with edible gumpaste
What could be more evocative of fall then a wreath of autumn leaves? I loooove how these look on a cake, and bonus: making fall leaves for cakes is fun and easy!
Click here for a scrumptious applesauce cake recipe, and here for an amazing salted caramel sauce you can use to make the cake pictured above.
You'll need:
yellow gumpaste
Assorted leaf cutters
gel food color and vodka, lemon extract or everclear (the best choice if you live in a state that sells it. It evaporates super fast so it's a great choice for painting)
apple or egg crate to shape the leaves while they dry.
Roll out the gumpaste and cut out leaf shapes. You can keep them from drying out while you work in a ziploc baggie. Press them in the veiner and lay them on the former. I like to alternate them right side up and down.
Let dry (preferably overnight).
now the fun part!
It's a bit messy though- use gloves if you don't want to get food coloring all over your hands. I like to look at some photos of autumn leaves before I start. They have a lot of variation so I mix red, orange, yellow and green.
I use several brushes, so I can start by dabbing on a darker bit, then dip a clean(ish) brush in vodka and blur the lines for a watercolor effect.
If you get a more solid or dark look than you like, you can dab vodka on with a brush, wiping the color off in between on a paper towel:
The fun is in the variation, so definitely don't worry about perfection. The more splotchy they are, the more realistic!
marzipan acorns
Roll marzipan into fat little teardrops. For each, cut a circle from brown fondant and attach for the cap. While the fondant is still soft, roll against a strainer for texture.
Put a tiny ball of fondant on top. I like to add a little bit of lime green petal dust.
That's it! A super cute addition to any fall dessert. Here's how I arranged them for this wreath:
If you don't have a piping bag, just snip the corner off of a ziploc baggie.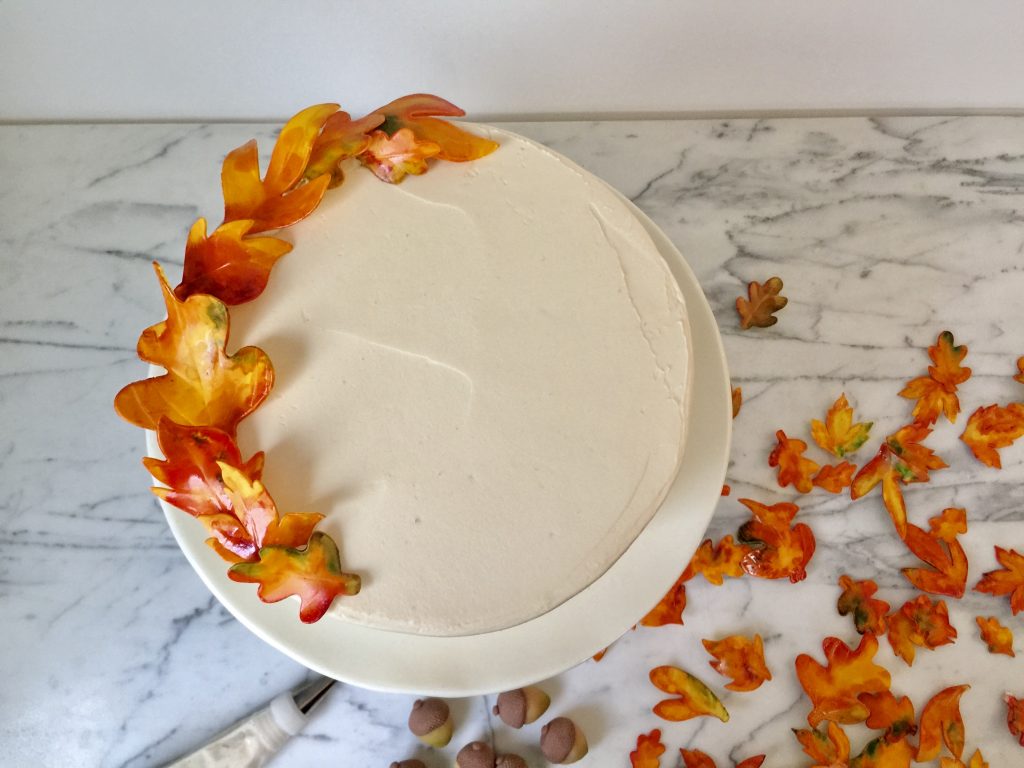 If you only have time to make a few leaves, look how pretty this minimalist version is!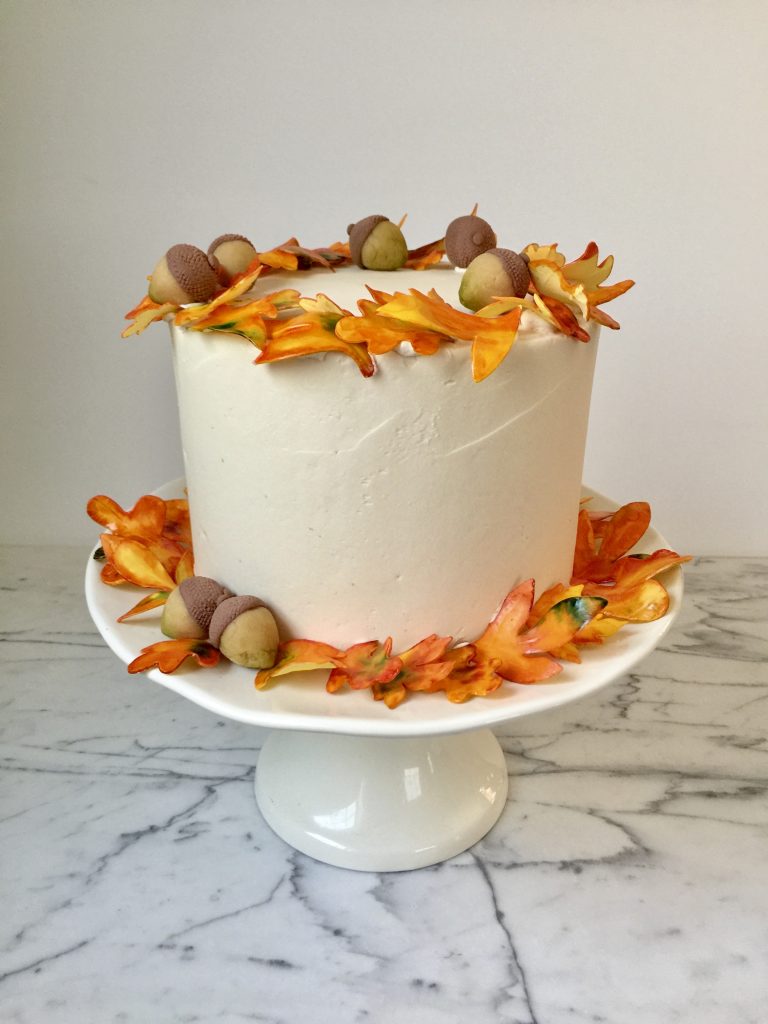 But, I gotta say…it's pretty great this way!
Happy baking!!