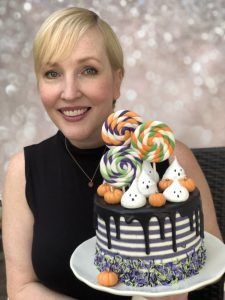 Hi there! I'm Robyn from Robyn Loves Cake. I'm here to try and share some of the things I've learned making custom cakes since 2005. I'm a decorator really, but I place a high value on how a cake tastes! So I've tried *many* recipes, tweaked some, and over the years I've collected my list of favorites. I'll be sharing them all! Along with lots of decorating tutorials.
I've done many fun things in my career, but my favorite by far is that I've been a Sunday Sweet on Cake Wrecks twice…to me, that's success (if you haven't discovered that website, do yourself a favor! Trust me on this).
You can see loads of examples of my work on my website.
Welcome, and I'd love to know what you are interested in learning about so please let me know! If I have some insight I'll share it!