To get straight to the point here: this is the chocolate cake you've been looking for. It took me years to find it through trial and error, so here's your shortcut!
When I started my cake business 15 years ago, I used what I had used at home for years: the recipe off of the back of the Hershey cocoa can. My customers were always so surprised when they heard that, but it is a *great* recipe. Yummy and easy, and a huge favorite amongst my clients (I actually named it The Favorite on my menu, ha!)
Over the years I used what I learned to tinker with it, just a little bit-the major change being to add espresso powder to the hot water, to intensify the chocolate flavor (I've tried about 6 brands and this is my favorite by far. I get it from Sur la Table). Then one day I was watching Ina Garten (I looove her) and realized how close one of her chocolate cake recipes was to this one, so I tried her tweaks (way more cocoa, and buttermilk rather than milk). And…a star was born. Lol! Completely Delish, Best Ever Chocolate Cake. Officially.
The only thing I don't use this recipe for is any kind of elaborate sculpting, because it's so moist it's just too soft and crumbly to carve details effectively. But it works great for everything else, including tiered cakes, assuming you use adequate support.
Shop my favorite baking tools here.
here's my method: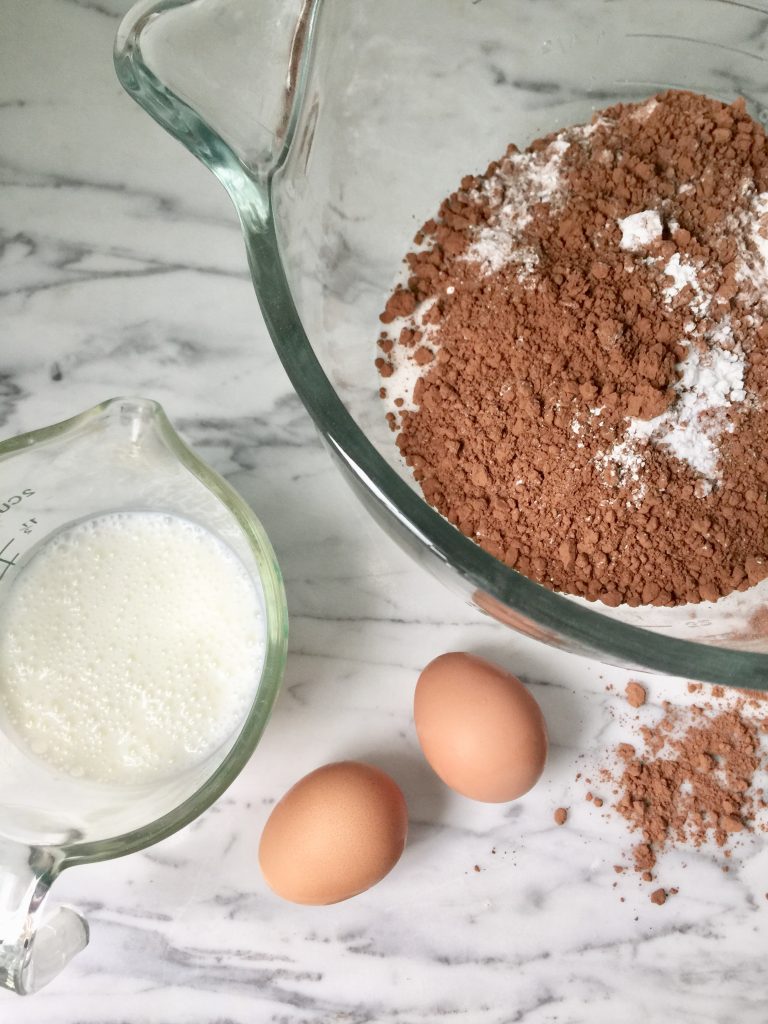 Dump the dry ingredients into your mixer bowl and combine with the paddle attachment at low speed.
Measure the oil out into a liquid measuring cup, and add the eggs to that. Add to the dry ingredients and mix on low.
Add the buttermilk on low in a *very* thin stream, stopping midway to scrape the sides and bottom of the bowl.
Repeat with the coffee, and that's it! It's a very thin batter which feels a bit strange at first but it bakes up beautifully.
Now that you're done, here are some fun and quick frosting ideas!
Beatty's Chocolate Cake
Course: Dessert
Cuisine: American
Difficulty: Easy
An awesome chocolate cake, plain and simple
Ingredients
1 3/4 cups all purpose flour (plus some for greasing your pans)

2 cups sugar

3/4 cup cocoa powder


2 tsp baking soda


1 tsp baking powder

1 tsp salt


1 cup buttermilk

1/2 cup vegetable oil

2 extra large eggs, at room temperature

1 tsp vanilla

1 cup hot coffee (I use 1/2 tsp of this espresso powder in 1 cup hot water)
Directions
Preheat oven to 350 degrees. (Ina says to butter and parchment two 8" pans…I show how I grease pans below)
Sift the flour, sugar, cocoa, baking soda, baking powder, and salt into the bowl of an electric mixer fitted with the paddle attachment and mix on low speed until combined. In another bowl, combine the buttermilk, oil, eggs and vanilla (I have a slight change to this bit shown above, but both methods work). With the mixer on low speed, slowly add the wet ingredients to the dry. With mixer still on low, add the coffee and stir just to combine, scraping the bottom of the bowl with a rubber spatula. Pour the batter into the prepared pans and bake for 35-40 minutes, until a cake tester comes out clean. Cool in the pans for 30 minutes, then turn them out onto a cooling rack and cool completely.
How I grease my pans
I used to do what lots of bakers do: make a mixture of flour and shortening and brush that into my pans. It works great but why wash an unnecessary bowl? We wash more than enough dishes already! I tried this one day and never looked back.
Brush shortening into each pan. I prefer a silicon pastry brush…natural bristles come out sometimes which is a pain. I always use Spectrum organic shortening; I find it's a bit softer than crisco so it's easier to spread. Dump a spoonful of flour into the pan and tilt and shake it to cover the bottom and sides. Tip out the excess and that's it!
We are sorry that this post was not useful for you!
Let us improve this post!
Tell us how we can improve this post?
Happy baking!!