I had *such* a great time putting this cake together! It's pure Halloween fun in cake form.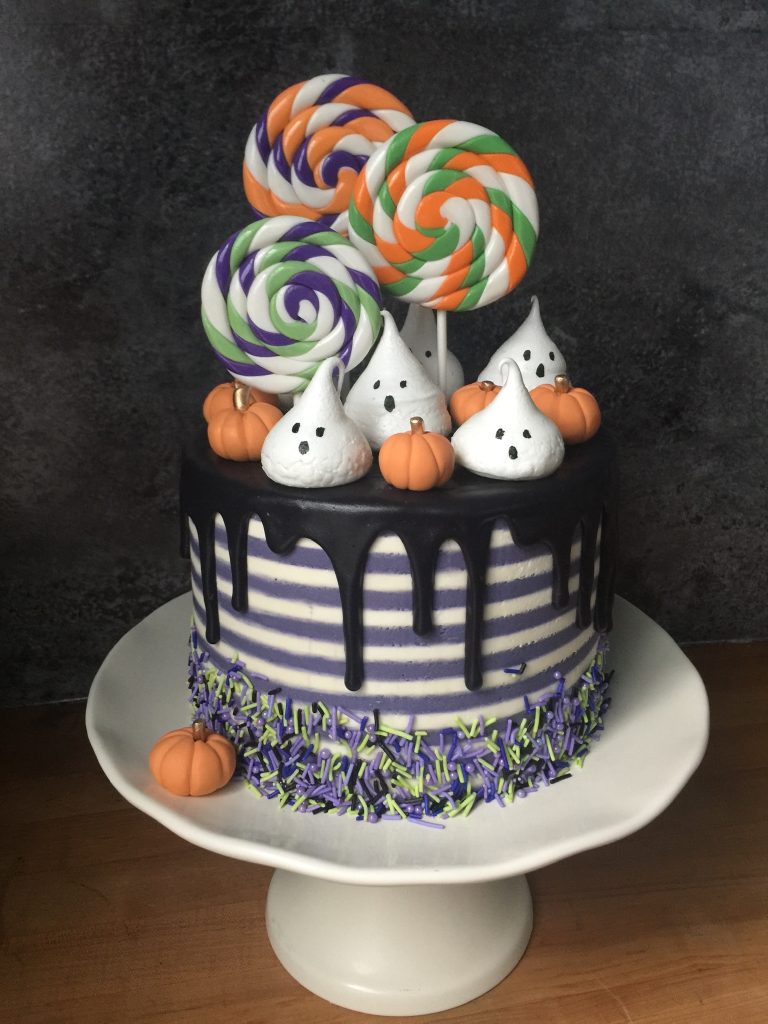 There are a few different components going on, but they are all fun to do. Plus, you can just pick one or two and it will still be so cute! To learn how to do the lollipops , click here.
For the pumpkins and ghosties, click here.
stripey buttercream
This is a quick and easy technique that adds pop! I will say that I don't particularly like the comb I have, but it works for designs like this with sprinkles and ganache drip to distract from imperfections ;). This one from Evil Cake Genius is way better and I've been meaning to get one!
After you've crumb coated and chilled your cake (click here for a delicious brown butter pumpkin recipe), slather on a thick layer of buttercream. Cream cheese frosting isn't a great choice for this because it doesn't get as firm as buttercream. Hold the comb against the side of the cake firmly, while turning the turntable to make the rows. Clean up the top by carefully running an offset spatula from the outside in, cleaning the blade between passes.
Chill in the fridge until the buttercream is completely cold.
Spread the contrasting buttercream over the whole cake filling the rows, and scrape the excess off with a bench scraper. Done!
I like to put the sprinkles on before doing the drip, in case the drip overlaps. For this I used these cute Halloween sprinkles, and just pressed them on while the buttercream was not too cold. This Hocus Pocus sprinkle mix would be *super* cute too!
ganache drip
My basic ratio for a ganache drip is 1 packet candy melts to 1/4 cup and 1 tablespoon heavy cream. For this one though, I just wanted as much as I would need, so I halved it. I used my digital scale to measure out 6oz of the melts, and added 2 1/2 tablespoons of cream. This is the ratio I like, because I like kind of fat drips rather than skinnier ones…much depends on the look you're going for. Just add a teeeeeensy bit of cream if you want it thinner.
Heat in the microwave at 30 second intervals, stirring in between until they are melted. Using a spoon, on a very cold cake, spoon the ganache along the edges, nudging the ganache over the edge to make the drips. Fill in the top. I knew I was going to be covering it with tons of deco so I didn't fuss too much, but if I wanted the top to be smoother, I would thin the ganache out a bit before pouring.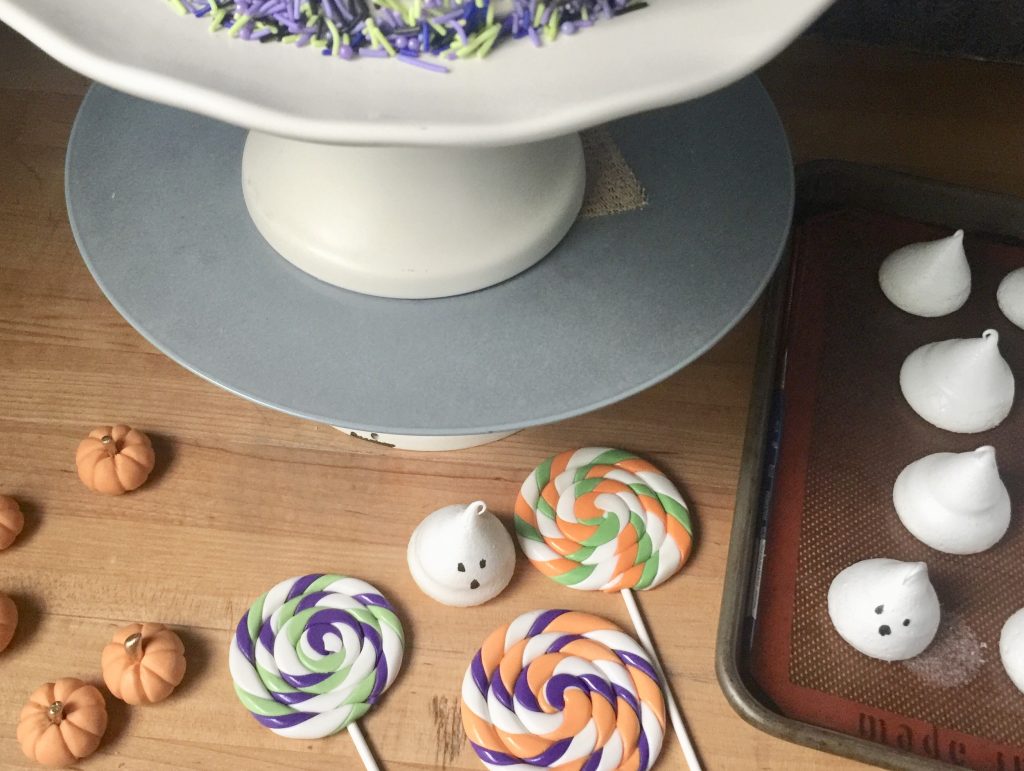 To assemble (the most fun bit!), start with the lollipops, then arrange the pumpkins and ghosties around them.
And there you have your Halloween fun cake!
Happy baking!!