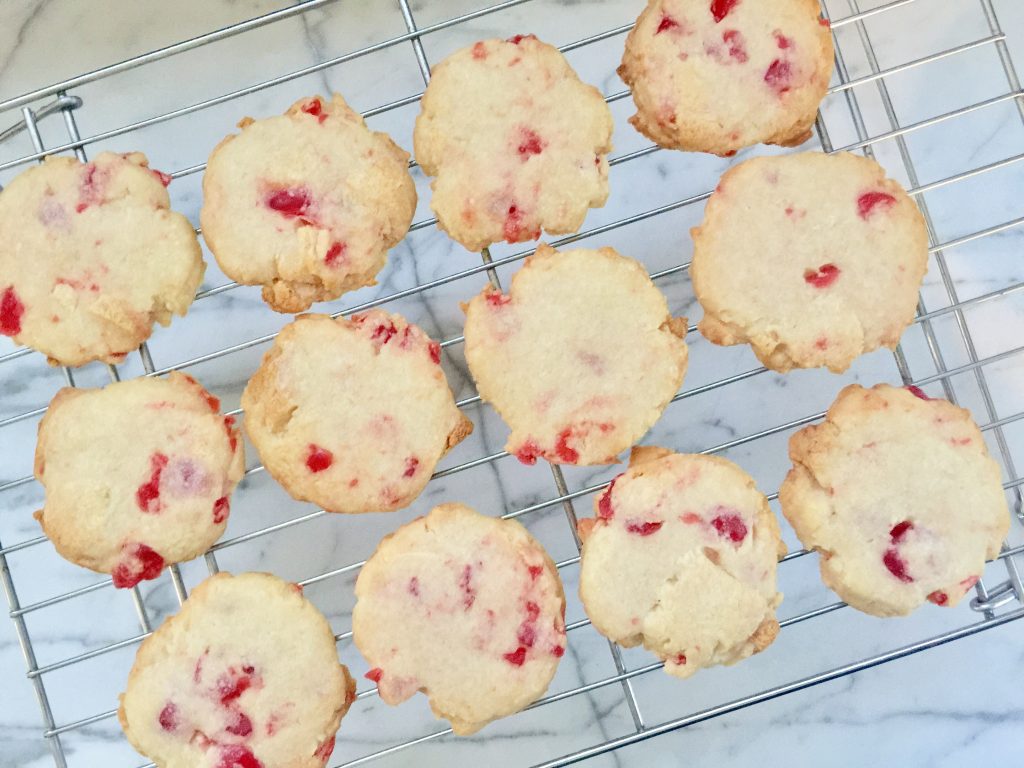 One of my favorite flavor combos is cherry and almond, and recently I tried a recipe for a cookie with marzipan and cherries that was really nice. But I've been on a bit of a shortbread kick lately, and I can't stop eating these!! The chewy cherries and chunks of marzipan are so perfect in the crumbly shortbread (I used my ancient snowball recipe…the texture reminds me of pecan sandies too). They really are addictive 😍
the marzipan
My favorite fruit cake uses marzipan, and you have to freeze the chunks before using, so I tried these cookies with frozen marzipan and with just cold. I'm happy to report there is no difference at all, in case you were wondering, lol.
When you want to make these, you can grab a roll of marzipan at the grocery but you can also make it really easily! Here's how.
how to make these beauties
These are so quick and easy to whip up! Just cream the butter a bit, add the powdered sugar, salt and extract and combine. Add the flour, mixing just until it's incorporated.
Add your cherries and marzipan, and give a quick mix.
Portion out onto cookie sheets with a medium cookie scoop, and flatten. I use a measuring cup (when it gets sticky dip the bottom in sugar). You can also roll the batter into a log and chill it, then bake the slices. This makes perfect rounds but I don't bother if it's just for us. If I was making these for a gift though I probably would!
quick update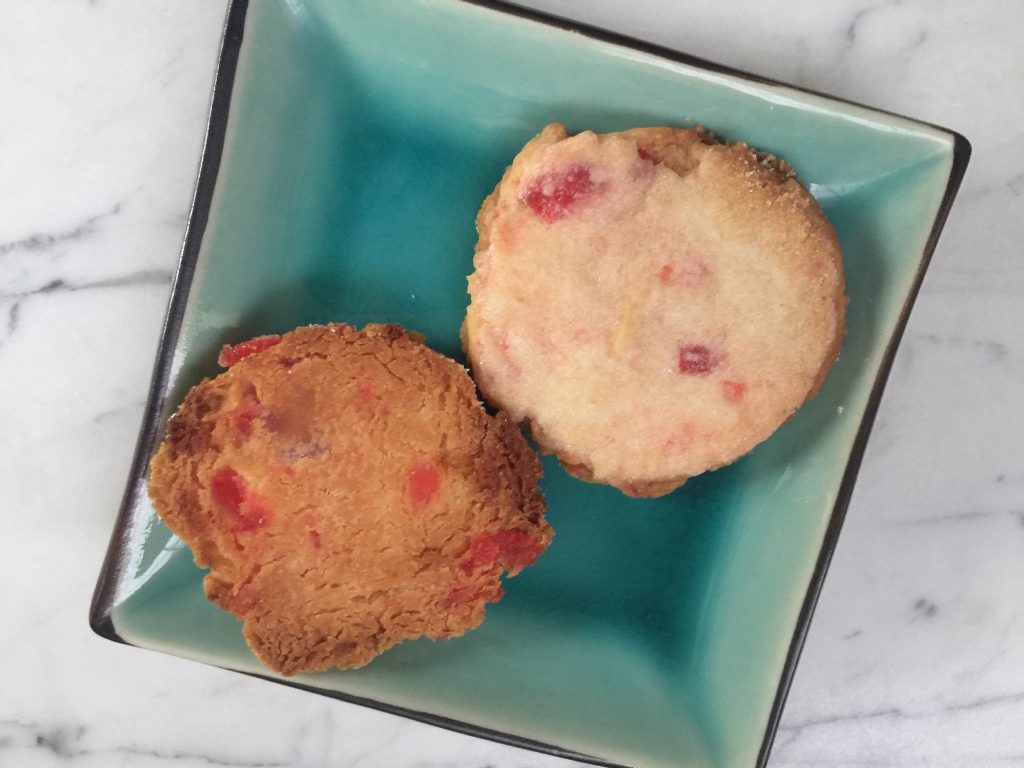 I made a batch of these the other day and accidentally left them in the oven longer than normal, so the edges and bottoms were pretty brown. Well the verdict around here is a big thumbs up! We really liked how chewy the cherries got- so you may want to try one sheet this way and see what you think!
quick update #2
A reader suggested icing these guys and I don't know why I didn't think of it! I gave it a go by mixing up a water glaze, since I wanted the icing to dry rather than stay soft.

I whisked together 1 cup of powdered sugar with 1/2 teaspoon vanilla and 1 tablespoon plus 1 teaspoon of water. From there I thinned it a few drops at a time until it was drizzle consistency. I filled a piping bag (blocking the tip with a finger so the icing didn't run out) and waved it back and forth above the cookies letting it fall on to them.
You can see that the glaze dried flat, and it tasted lovely! Next time I may try royal icing, so the stripes stay more defined.
cherry almond shortbread cookies
Difficulty: Easy
Simple but delicious cookies, perfect for enjoying with a cup of tea
Ingredients
1 cup (2 sticks) unsalted butter, at room temperature

1/2 cup powdered sugar

1/2 teaspoon salt

1/2 teaspoon almond extract (I use a bit more, but I really love that flavor)

2 cups all-purpose flour

3/4 cup glacé cherries, halved

4 ounces marzipan, diced and chilled in the fridge
Directions
Preheat oven to 350 degrees Fahrenheit.
Cream the butter and sugar in the bowl of a stand mixer until smooth.
Add salt and extract; mix.
Add flour and mix just until combined.
Mix in the cherries and marzipan. A few pulses of the mixer on low should incorporate them.
With a small scoop, portion out onto cookie sheets, lined with parchment or a Silpat.
Flatten with a flat-bottomed measuring cup, dipped in sugar to keep from sticking.
Bake for 14 minutes, or until the bottom and edges are light golden brown. Cool on racks.
We are sorry that this post was not useful for you!
Let us improve this post!
Tell us how we can improve this post?
Happy baking!!